Keying Codes
Key Codes
Factory Direct Hardware offers Free regular keying. If placing a new order and you want all items keyed alike just use the drop down on each item and select Keyed Alike and we will key your order for free to a random key code.
If you need to replace a lock and want the lockset you are purchasing to match your existing key we can do this also. There are two important requirements. The cylinder in the lockset you are purchasing is the same as the ones you currently have. We will also need the key code.
Key codes are found on the side or the bow of the original key that came with your new lock. Some brands do not stamp this code on the side of their keys. If this is the case the only way to get that code is with a key gauge.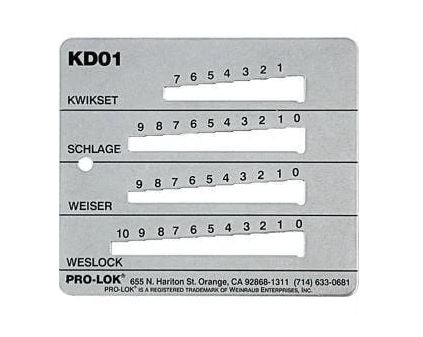 If you are unable to retrieve your key code we can always send the lock with a random key. It just will not match the key you currently have
This is a Free service offered by Factory Direct Hardware. This service does not include Master Keying or Builders key. We do offers these at an additional charge.