Keyed Alike - If you select the keyed-alike option, all keyed products ordered on the same order will be keyed to the same key at no additional charge. The same key will open all keyed products.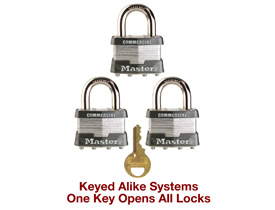 For all Keyed Alike orders placed, it's essential to choose the identical manufacturers items. For instance, a Kwikset key won't enter into Schlage products and vise-a-versa. All items available for sale on this website plainly list the manufacturer (you are able to shop by manufacturer utilizing the top navigation drop down box). Should you choose to buy multiple manufactures of keyed products and choose keyed-alike on everything, you will find yourself with one set of keys for each and every manufacturer.
When purchasing numerous keyed-alike products we are going to include 2 keys total at no extra cost. Extra cut keys are available utilizing the extra key options drop down box.
Keyed Different - If you choose the keyed-different option, all keyed products purchased on a single order are going to be keyed differently. Each and every lock will utilizes a different key to lock/unlock. Two keys per lock are going to be supplied at no added cost. Extra cut keys are offered utilizing the extra key options drop down box.
Prior Purchase - We do keep track of most key codes utilized on prior purchases. If you decide on more locks at some future date and need them keyed to the original purchase, make sure you add your key code or order number within the key code box of the item you are adding to cart. In the event you do not have your key code or cannot provide the original order number, be sure to call us today at (855) 368-1040 so we can look it up for you.
Existing Key - We can certainly key your brand-new locksets to the existing key, provided they're the exact same manufacturer (Ex. Existing Schlage key when purchasing new Schlage locks).
Other Keying Options (Extra costs will apply):
Master Keyed - All keyed merchandise that specifies master keying, will operated with two distinct key systems. The First key (master key) will open up all locks keyed to the master key code. The Second key(occupant key) is only going to open up those locks that have been keyed for this tenant key. This key method is the platform for apartment developments or rental property in which the manager has a master key which will open up all door locks within the property; on the other hand, the occupant would only have accessibility to their unit. Contact (855) 368-1040 to find out more. Extra fees will apply.
Builders Key - All keyed merchandise that stipulates builders keying will operated with two independent key systems. After the home owner key is used, the builders key will not function. This key technique was created to offer security when the property is being built. As soon as the building process is completed and the property owner takes ownership and makes use of their key, the builders key will not operate the locks. Call (855) 368-1040 to learn more. Added fees will apply.